A passport photo: a symbol of progress in an otherwise very blah day.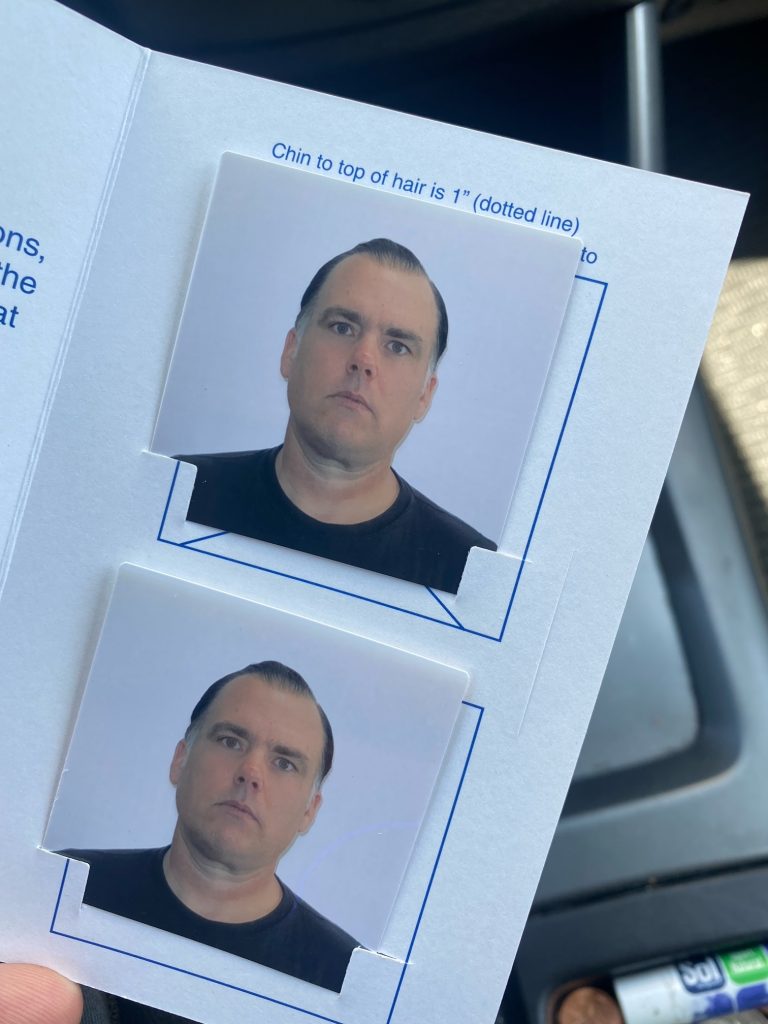 Coming off a whrilwind block of time here where I traveled around the Sierras, snowboarding in both in Lake Tahoe and Mammoth, and also down into Reno and Carson City (perhaps more on that in the future). Then I came home to three nights in a row of Jawbreaker, which, I mean, anyone who knows me at all will understand that it was essentially my own personal 72 hour religions experience.
In the midst of all that, my Dad and his wife found three hours to sit down with me and hammer out details on the trip that would make it plausible for my Dad to manage this much travel in foreign lands and accomplish all of his goals. I am really, truly thankful for her right now. She is a rock for my Dad and understands what he needs. In fact, she scheduled a sit-down time with a travel agent and forwarded a list of needs for my Dad in advance (business or first, flying in a pod, direct or layovers etc) so they could sit down today and get situated.
Essentially the trip looks like this for me, London > Edinburgh > Liverpool > London > Paris > Zurich > Montreal > LA. For my Dad and my brothers, they're ideally flying straight to Edinburgh and then home from Zurich. I am seeking a "soft landing" back in North America and have never been to MTL and have been obsessed for a long while, so going from Zurich, to PHL, to MTL, to Los Angeles will be my route home. Ten days later I am going back to the East Coast to for a work conference and I am hoping it includes at the very least one night in NYC. The NYC vs. MTL struggle was real for me, and I suppose it could still change. I haven't been to New York in a long, long time but I feel like this trip provides a pretty unique opportunity to visit MTL and I will get other chances to visit NYC….like potentially two weeks later.
I finalized my passport application and appointment yesterday and went and got photos today. I am having to opt for an expedited process (nothing seemed certain until this past weekend) and also getting some sort of passport card that works for Canada and Mexico (though I'd still prefer a stamp going from Zurich to MTL).
It's starting to really happen and I am starting to feel the energy. Before you know it I will be back across the Atlantic for the first time in 16 years.